Here Are All of the Major NFT Projects Being Turned Into Movies
We've seen movies funded by NFTs and there are at least a couple documentary films in the works about the NFT craze—but what about movies based on NFT collections?
They're coming. Amid last year's wild NFT market boom, which generated $25 billion in trading volume for these hot, ownership-authenticating tokens, we saw successful NFT projects ink deals to bring their characters and stories to the big screen. And the announcements keep coming.
Here's a look at the major NFT projects that have been announced to get the film treatment, as well as those that have signed representation to explore potential movie deals and more.
World of Women
World of Women NFTs are growing in popularity. Image: World of Women
Actress Reese Witherspoon has gotten into NFTs in a big way, and now she's aiming to turn the leading women-led and women-centric project into an entertainment juggernaut. Last month, Witherspoon's Hello Sunshine production studio announced plans to create movies and TV series based on Yam Karkai's World of Women NFT project.
In January, World of Women signed with veteran music industry exec Guy Oseary to represent it with such media and product deals. Witherspoon said that World of Women NFT holders will have a say in the creation of projects based on the profile picture collection.
Reese Witherspoon Plans TV Shows, Films Based on World of Women Ethereum NFTs
Aku
Aku is an NFT character created by former MLB player Micah Johnson. Image: Micah Johnson
Artist Micah Johnson's Aku—a Black boy who dreams of being an astronaut—was the first original NFT character optioned for film and TV projects in April 2021, just two months after the first Aku NFT dropped. It was optioned by Anonymous Content and Permanent Content, with the latter company formed by musician Shawn Mendes and manager Andrew Gertler.
Aku's star has grown significantly since then across subsequent drops, as well as the lavish Aku World experiential show held at Art Basel Miami last December. Johnson, a former MLB player, told Decrypt last August that Aku NFT holders may be able to influence the direction of the IP as it expands into the world of film and beyond.
"What's more powerful than allowing fans to directly have participation in the growth and expansion of that IP?" said Johnson.
Black Astronaut 'Aku' Becomes First NFT Artwork to Travel to Space
Huxley
Huxley is the latest addition to this list. Just last week, longtime Marvel film producer Ari Arad ("Iron Man") and his Arad Productions studio announced plans to co-produce a film adaptation of artist Ben Mauro's Ethereum NFT comic book project. Arad will develop alongside Web3 production studio Feature as well as Oscar-nominated VFX supervisor, Jerome Chen.
Mauro spent years as a concept artist for films like "Elysium" and "The Hobbit" along with Call of Duty and Halo games before making the leap into the world of NFTs. His projects have now yielded many millions of dollars' worth of trading volume. Huxley's post-apocalyptic sci-fi vibe could translate well to the big screen, as shown by this cinematic CG animated concept trailer. However, it's not yet confirmed whether the film will be live-action or animated.
Marvel Producer Arad to Turn Huxley Ethereum NFT Comics Into Film
Maybe: CryptoPunks/Meebits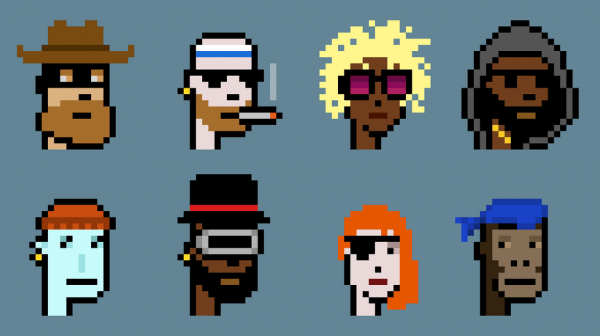 CryptoPunks are among the earliest NFTs. Image: CryptoPunks.
In August 2021, United Talent Agency (UTA) announced that it signed Larva Labs—creators of CryptoPunks, Meebits, and Autoglyphs—to help take its IP into Hollywood. UTA will represent Larva with endeavors in film, TV, video games, and beyond.
Exactly how that will take shape remains to be seen, however. Nothing more has been announced since then, and Larva Labs has famously (or perhaps, infamously) been pretty hands-off with its community since the NFT market exploded in early 2021. So we could see CryptoPunks and Meebits in film, but when and how are still unknown.
CryptoPunks Go Hollywood as Larva Labs Signs With Major Talent Agency
Maybe: Bored Ape Yacht Club
The Bored Ape Yacht Club is a limited series of Ethereum-based NFTs. Image: Bored Ape Yacht Club
Along those same lines, Bored Ape Yacht Club creator Yuga Labs signed with Guy Oseary in October 2021 to explore bringing the popular Ethereum NFT profile picture project to film, TV, music, and video games.
Bored Ape Yacht Club NFT Makers Eye Expansion Into Film, TV and Music
It's similar in scope to what Larva Labs is doing with UTA, from what we know, with no further details released since the initial news. However, it's worth noting that Bored Apes have since become immensely popular amongst celebrities, with folks like Eminem, Justin Bieber, Steph Curry, and Snoop Dogg "aping into" the project. There could be a significant push to see the Bored Apes come to life on the big screen.